Top 45p Cheap Past Life Readings
CALL TODAY 0904 007 1444
(Call cost 45p per minute plus network access charges apply)
The UK's Cheapest Past Life Readings From 45p per minute
Welcome to our team of psychic past life readings experts who are dedicated to unravelling past life issues thus allowing harmony within this life leading to inner peace and happiness. We are most accepting of the words of spirits when we're asleep because the influences of the earth plane are far less significant and our souls welcome the input whether that's from spirit guides who help us to connect to loved ones or our loved ones themselves, however sometimes our dreams include memories from long ago.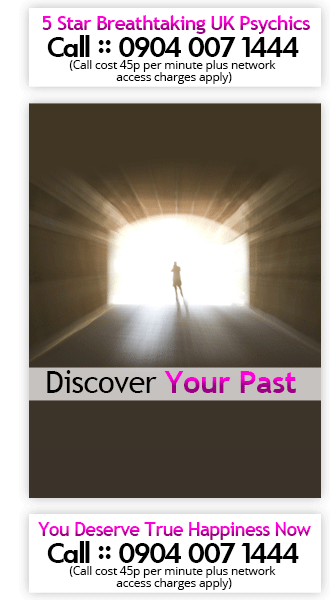 Our memories from past lives will usually first appear during dreams and sometimes when we connect to loved ones we are given further details about previous lives but it can often be confusing to know that you are comfortable with a memory but to not understand the reasons why, that is where our phone psychics can advise on issues relating directly to yourself. The need to understand can often be the first step to you wanting to find a good phone psychic who can tune in and make a strong connection with you to give you in depth past life readings that will bring the memories of your other life come flooding back to you. Our truly talented mediums psychics readings and psychic advice lines will ensure that you are in good hands and you needn't worry about whether or not you'll find a good psychic because we take great pride in working very closely with all of our past life readings psychics to ensure that they are highly skilled, 100% professional, sensitive and experienced enough to not only connect you with loved ones but to also give amazing past life readings.
Past life readings can help to uncover the root of issues where conventional methods have failed that's why our psychic phone lines are in such high demand, for example you may have a fear of woodland but no idea why or you may feel the desire to be in a particular location because it feels more like home than your own, our psychic readers can point you in the right direction. When you find a good psychic on our busy psychic advice lines you will be able to connect with loved ones, not only from this life but also from your previous life and with thorough mediums psychics readings you will be able to discover the crux of your memories and understand the importance of these details and relate them to your current life. When we connect to loved ones, either with past life readings, dreams or mediums, psychics readings, the details that we start to uncover all bear a relevance to our lives now and even if you don't immediately connect with the information that's presented to you, it will make sense in due course.



If you keep feeling a pull to memories that feel most definitely yours but you cannot place them, call for a past life reading today and one of our skilled and highly renowned team of psychics, mediums and clairvoyants will assist you in delving deeper into your former life where you will then be able to start to apply the lessons from your previous life and apply them to this one to bring yourself greater successes in life!
Top 45p Cheap Past Life Readings
CALL TODAY 0904 007 1444
(Call cost 45p per minute plus network access charges apply)
Or Text 'JOY' to 67111 with any questions you need advice about
(This Service is provided by LiveLines UK Ltd SMS cost £1.50 each to receive + standard network charges, maximum 1 text message per reply. Picture messages cost £3 per picture, you will only receive a picture message if you request one. Mobile users may receive free promotional messages, call 0333 200 2321 to opt out of these. Call cost 45p per minute + your phone companys access charge. Helpline: 0333 200 2321. All users must be aged over 18+ and have the bill payers permission. PO6538 NN2 7YN. Payments@livelinesuk.com.)